2023 Jeep PHEV 4xe Models

2023 Jeep 4xe PHEV Models in Southey, SK
Hybrid electric vehicles are the way of the future, and Jeep is setting a high standard with their new 4xe plug-in hybrid electric vehicles (PHEV). Indeed, these new Jeep innovations combine punchy engines with electric power without compromising the experience and capability you've come to expect of a Jeep vehicle. Whether you're located in Southey, Moose Jaw, White City, Regina, or Fort Qu'Appelle, SK, allow us to get you acquainted with our new Jeep 4xe inventory below before visiting Southey Motors Ltd. to make one of them yours.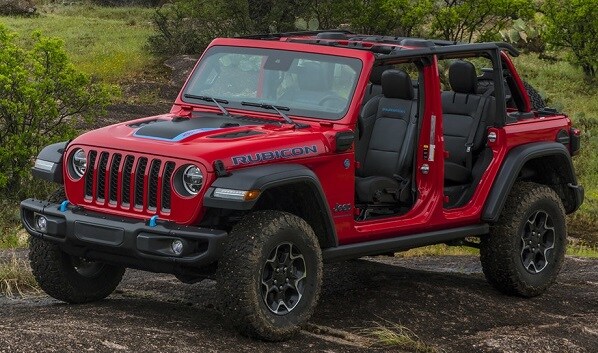 2023 Jeep Wrangler 4xe
As the industry's first electrified open-air SUV, the 2023 Jeep Wrangler 4xe fulfills your sense of adventure with the enhanced torque and efficiency of refined hybrid hardware. A 2.0L turbocharged engine pairs with a 17-kWh battery to give the Wrangler 4xe a combined 375 horsepower, 470 lb-ft of torque, a total driving range of nearly 600 km, and an all-electric range of 35 km. In addition to competitive charging times and compatibility with household and 240-V outlets, the 2023 Wrangler 4xe plug-in hybrid offers 4x4 capability for a surefooted ride both on and off the pavement.
Rest assured, this plug-in hybrid model offers all the off-road equipment you'll need for safe and exhilarating adventures on the trails, boasting a Rubicon trim with all-terrain tires, Tru-Lok front and rear axles, and a Rock-Trac 4x4 system that will help you brave rugged and uneven terrain. You can even modify your Wrangler 4xe's exterior to enjoy the kind of open-air freedom only Jeep can provide, as this SUV offers removable top options, a fold-down windshield, and removable doors.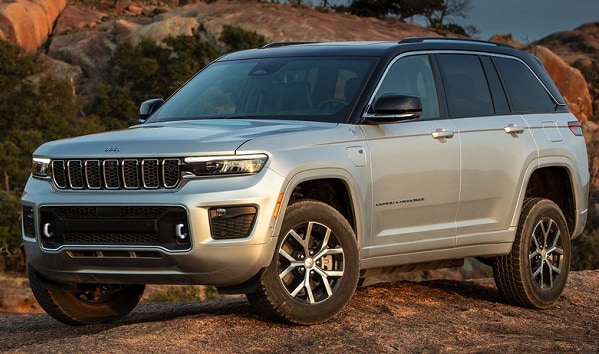 2023 Jeep Grand Cherokee 4xe
Like the Wrangler 4xe, the 2023 Grand Cherokee plug-in hybrid includes a turbo engine and battery for 375 horsepower, as well as competitive charging times. This new Jeep SUV also boasts a driving range of 761 km, up to 42 km of all-electric, zero-emissions driving, and a generous towing capacity of 6,000 pounds. In addition to its generous brawn and capability, the Grand Cherokee 4xe boasts swift acceleration and a fuel economy of just 4.2 L/100km, so you can enjoy a responsive and engaging drive that won't cost you too much at the pumps.
This Jeep PHEV has more to offer than a refined hybrid configuration, as its exterior boasts stylish bodywork, sleek aluminum wheel options, and premium LED lighting. As for its interior, the Grand Cherokee 4xe offers meticulously crafted materials, available leather upholstery, interior ambient lighting, and upscale comfort and relaxation with an available massage function for the front seats. In short, if you want to enjoy the finer things in a robust, eco-friendly package, the 2023 Grand Cherokee 4xe has you covered.
More Information
Feel free to consult our Jeep PHEV FAQs for more information on these attractive electrified models, and contact or visit Southey Motors Ltd. online for details on available hybrid and electric vehicle rebates before your next purchase.
Make an Inquiry
* Indicates a required field