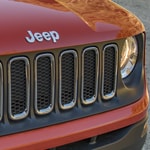 The Jeep Renegade continues to be one of the most popular subcompact SUVs available for many reasons. However, most SUV fans point out to the Renegade's exterior as a top reason for the vehicle's popularity. Here are a couple of top exterior features now available on the Renegade.
The Renegade is one of the only vehicles, in any segment, that offers a sunroof that can be both opened and removed. This unique system goes you the ultimate open-air Jeep experience. Also available is a dual-pane panoramic sunroof. This unique sunroof allows all five passengers to get an excellent view of the world above the Renegade. Each of these sunroof choices allows you to get the most of your Renegade driving experience.
We are ready to put you into the Jeep Renegade of your choice. Visit us at Southey Motors Ltd. and take a test drive of the Jeep Renegade of your choice. We're ready to make you a top deal.